Production Machines and Equipment
What will you learn?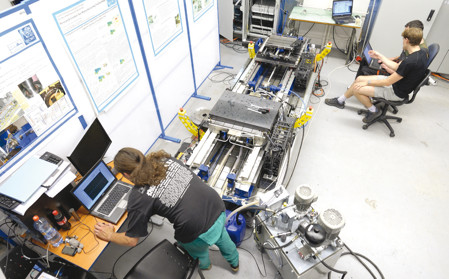 As a graduate of this field you will dominate theoretical and experimental methods of designing production machines and handling equipment and ways of ensuring their operation. You will also gain a deeper knowledge of theoretical and applied mechanics as well as of engineering technology. You will also learn about the concepts of conventional and CNC machines, robots and manipulators in connection with their application in various technological dispositions of mechanical engineering.
The programme puts much attention to the directions of research and development of new structures, machines, their components and promising applications of unconventional materials in the construction of machines.
During the study, you will have the opportunity to participate in projects implemented in cooperation with industrial partners and thus and use your theoretical knowledge in practice.
Future career
You will find suitable jobs as planners, construction engineers as well as in development, operation and company laboratories. You can also engage at business as entrepreneurs focusing on the segment of manufacturing machinery and equipment.