Study Department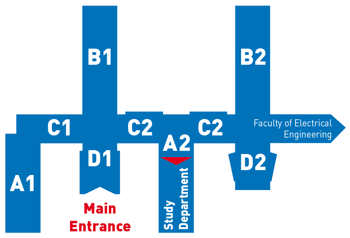 The Study Department is on
the ground floor in Dejvice
, Technická 4, Praha 6.
Enter by the main entrance, go through the hall, turn right and after a few metres turn right again into a corridor A2 where you find the entrance to the Study Department.
From June 27, 2022 to August 26, 2022, the office hours of the Study Department will change due to the holidays.
Office hours for students are every Wednesday (except July 6, 2022) from 9.00 till 12.00. If necessary, it is possible to arrange an individual date of the visit with your study assistant. The contact phone during the holidays is +420 778 424 312 .
Contact Person for Programmes Taught in English, Erasmus and Self-paying students
Simona Gronová (simona.gronova (at) fs.cvut.cz)
12922 – Students' Department
(22 435) 5609
room: A2-44b, Dejvice
International Relations Office – Senior Officer
Markéta Hamplová, DiS. (marketa.hamplova (at) fs.cvut.cz)
12923 – Department of Public Relations and Cooperation with Industry
(22 435) 8792
room: A1-4, Dejvice
PhD. Studies
Mgr. Sylva Ondrejičková, Th.D. (sylva.ondrejickova (at) fs.cvut.cz)
12921 – Science and Research Department
(22 435) 5042
room: A1-15, Dejvice
44b

Simona Gronová

simona.gronova (at) fs.cvut.cz

(22 435) 5609

Bachelor´s and Master´s (post-bacherol) study in English

Erasmus arrival agenda and MBD (International Bilateral Agreements)

 

49a

Mgr. Monika Matyášová

monika.matyasova (at) fs.cvut.cz

(22 435) 2587

Application process

Lifelong learning courses

Master study programme - follow-up study - MAE

 

48

Ing. Eva Rázková

eva.razkova (at) fs.cvut.cz

(22 435) 2572

Head of the Study Department ("studijní oddělení")

 

47

doc. Ing. Jan Řezníček, CSc.

jan.reznicek (at) fs.cvut.cz

(22 435) 2777
(22 435) 2424