Study Department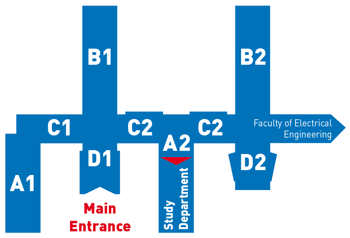 The Study Department is on
the ground floor in Dejvice
, Technická 4, Praha 6.
Enter by the main entrance, go through the hall, turn right and after a few metres turn right again into a corridor A2 where you find the entrance to the Study Department.
Contact Person for Programmes Taught in English, Erasmus and Self-paying students
Simona Jordáková
12922 – Students' Department
(22 435) 2656
room: A2-44b, Dejvice
International Relations Office – Senior Officer
Markéta Hamplová, DiS.
12923 – Department of Public Relations and Cooperation with Industry
(22 435) 8792
room: A1-4, Dejvice
PhD. Studies
Mgr. Sylva Ondrejičková, Th.D.
12921 – Science and Research Department
(22 435) 5042
room: A1-15, Dejvice