Theoretical Fundamentals of Mechanical Engineering
Theoretical fundamentals of mechanical engineering mainly prepares students for further study in the Master's degree programme Mechanical Engineering. The Faculty of Mechanical Engineering at the Czech Technical University in Prague will accept graduates of this programme in follow-up study programme without admission exams.
Tutor: Doc. Ing. Jan Řezníček, CSc.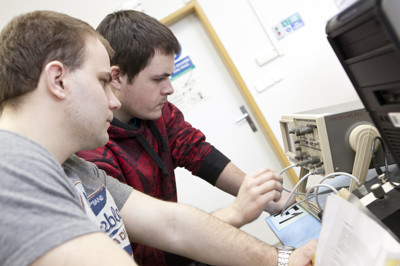 Graduates will gain knowledge at engineering level from the subjects Theoretical Fundamentals (mathematics, constructive geometry, physics, chemistry, computer graphics) and preparatory theoretical courses with closer focus on mechanical engineering (mechanics of rigid and deformable bodies and environment, studies of material, thermodynamics and fluid mechanics). Such knowledge will be useful in practice and for further development in engineering applications. They will also gain a good knowledge of technology fundamentals, as well as the fundamentals of law and economics. Students will also reach intermediate level of technical foreign language. The course includes also humanities and physical education.
Students of the bachelor's degree programme may be admitted directly or they may change after the first year of any programme at faculty of Mechanical Engineering at CTU in Prague. The programmes "Mechanical Engineering" with the standard duration of study of four academic years and the "Theoretical Fundamentals of Mechanical Engineering" with the standard duration of three academic years have the same study plans from the first to third year. However, from the first semester students of Theoretical Fundamentals of Mechanical Engineering shall sign up not only for compulsory general theoretical courses and preparatory theoretical courses but also for optional subjects of the so called level A (alpha). Basic examination in these subjects are of bachelor level and optional and successfully passed combination of basic examination and examination at level A then stands for an examination of Master's (engineering) level. Therefore, those students of "Mechanical Engineering" who pass all optional examinations of level A (alfa) may change during the course to study programme "Theoretical Fundamentals of Mechanical Engineering".