Technology, Materials and Economy in Engineering
What will you learn?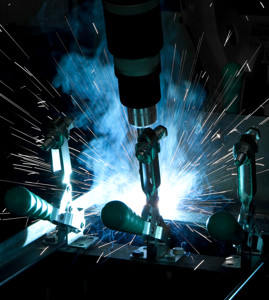 First, you will learn the fundamentals of theoretical disciplines (the so called basic studies) which will allow you to attend follow-up professional studies. In professional studies you will learn about the technology of casting, forming, heat treatment, welding, surface treatment, material testing and machining technology, including NC programming. Your professional profile will be completed in the subjects focused on the choice of structural materials and tooling, engineering metrology and non-destructive testing, design tools and products, CAPP production preparation, production equipment and diagnostics, quality management. Furthermore, you will study production management, rationalization of production of semi-finished products, assembly technology and design of production systems.
Subjects
Company Management and Economics
You will learn to build basic operating budget for a process or structure and to manage a simple calculation of the cost of products and services. In the field of management you will get familiar with the basic management functions, ways of using network analysis in project management and the application of multi-criteria decision making.
Materials
You will see manufacturing processes in engineering production. You will learn about materials used in engineering, especially for production of pig iron and steel. You will get an overview of the basic technology of casting, forming, forging, rolling and welding.
Quality management
The subject will introduce you to the quality management and metrology in the company. You will learn how to provide the necessary quality of products and services in the company. You will get familiar with "Seven basic tools for quality management," with the basics of reliability theory, modern definitions of reliability, probability characteristics of reliability, reliability of serial and parallel system.
Statistical and decision making analysis
You will learn how to apply selected statistical methods and models of decision making analysis and how to generate simulation and optimization models in the management of industrial enterprises.
Career
You will become an expert in addressing challenges of structural, technological and metrological nature, in managing tasks related to the choice of material and its processing, operation, quality management, energetics, standardization, economics, management, ecology, work safety. After gaining experience, you may hold management positions in preparation of manufacturing, operating, planning, trade, transport, services, etc. You will be able to address issues of the project as well as production and operational nature not only in technical preparation but also in the production process itself.